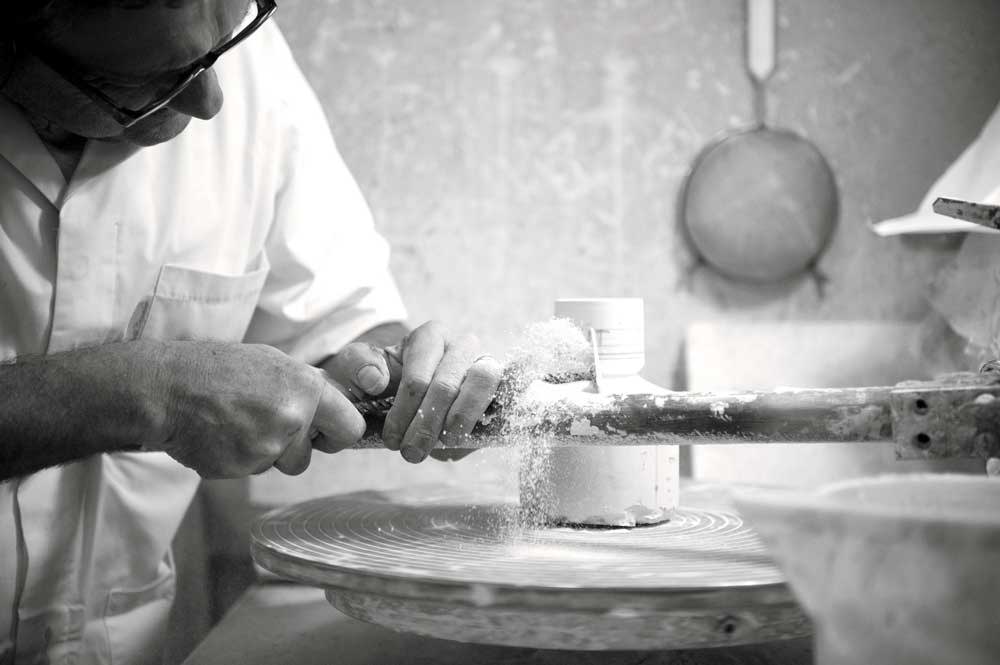 Located in the beautiful rolling hillside outside of Florence, Ceramiche Virginia is the factory behind our bestselling Lastra collection. In this virtual happy hour, my husband, Bill, and I chatted with our friends Stefano, Mirco, and Amerigo. . Stefano is a master artisan, Mirco is the company's president and is also in charge of the ceramics' glazes, and Amerigo is the company's head of sales. The three gentlemen walked us through the process of creating each product, and as always, we were struck by their talent, passion, and attention to detail.
We discussed four special collections: Red Bird, Lastra, Lastra Holiday, and Pietra Serena. Red Bird is particularly special to us for its meaning. Seeing a red bird signifies that someone who loves you is thinking of you, and so watching Stefano mold a prototype for a new piece in this sweet collection was a very happy sight. Amorino showed the inspiration behind our Lastra collection (an antique cheese mold found at a flea market), and we admired the festive and fresh pieces in the Lastra Holiday collection, hand painted with Tuscan Pine trees. We couldn't hold back from sharing something else very special as well-- a sneak peek at a brand new collection called Pietra Serena. Meaning "serene stone," the collection features hand pressed designs and is reminiscent of cobblestone roads in Tuscan cities.
Our time together went by all too quickly, but we ended on a festive note with a toast and some beautiful shortbread cookies decorated in the colors of the glazes of all the collections we have created with Virginia over the years.
IGTV Happy Hour: https://bit.ly/HappyHour_Virginia