Parking in the wide lot off the one street that hugs the entrance to Amalfi, I smile every time I enter through one of two arches to the main piazza. There is the Duomo di Amalfi, or the Amalfi cathedral, a beautiful medieval structure, with what seems to be one hundred steps to the top.
To my left is my favorite paper store on the Mediterranean Coast, where they sell handmade torn-edged paper with the Amalfi watermark called Carta di Amalfi. I always find something I can't live without. I can't help it. I love the oversized card with the edged envelope. I miss the gentleman who always helped me and celebrated my return with a hug and "va bene, arrivato!"
To my right, before the church, is a famed café filled with mouthwatering flavors of gelato. Buonissimo!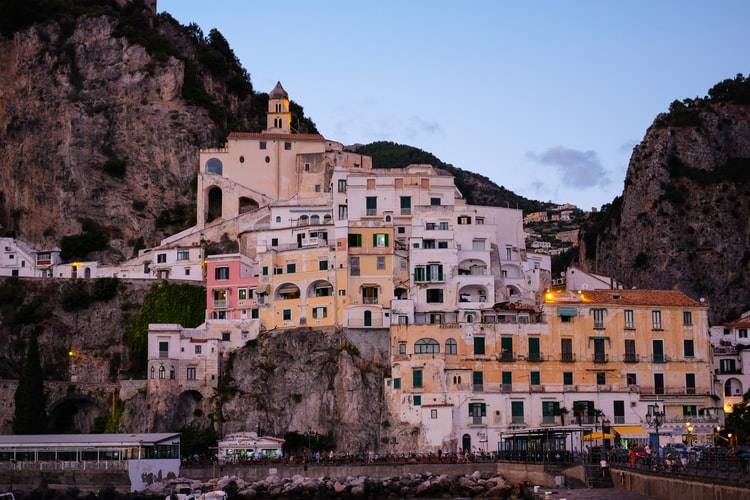 My friend, Andrea Esposito, who was the manager of Il San Pietro, has a beautiful pied-à-terre he rents. If interested, I recommend you contacting him at espositoandrea2@virgilio.it.
Lido Azzurro Ristorante on Lungomare degli Cavalieri, 5 is a favorite restaurant. Honing local flavor, it's delicious and lines the rocky beach very close to parking lot. Another must try is Taverna degli Apostali. You cannot go wrong with the local fish and pasta dishes.
To the left of the Amalfi cathedral are the cloisters, called Chiostro del Paradiso, housing 13th century frescos and a beautiful garden.
My favorite adventure is to walk or drive slowly through town to the end to see the oldest paper mill on the coastline. Because Amalfi was a major maritime port servicing the Holy Land with crusaders and materials, paper was used in the area of Amalfi since the 12th century. The mill closed in the late 1960s due to high production costs, but thanks to the original owner, a museum and foundation was established.
Hotel Santa Caterina is on the sea. The Clintons always stayed there. I love it!
Also Hotel Cappuccino is a former monastery. You arrive by outside elevator from the base of the road. The chapel is magnificent inside.